Wow your audience.


Outdoor Freestanding Displays.
Information and entertainment on hand where and when they want it. Freestanding means free rein to catch their eye. No limits on where you can put them either; Teksmart® outdoor freestanding digital posters work perfectly in all weathers. Prices start from just £4,600 (ex. VAT).
Promote Products or Services

Display Important Information
Highly Configurable Hardware
Extensive Range Of Screen Size Options
Commercial Grade Technology
Full High Definition (HD) Panel
Weatherproof IP65 Waterproof Rating
High Brightness Sunlight Readable Screen
Do You Have A Project We Can Help With?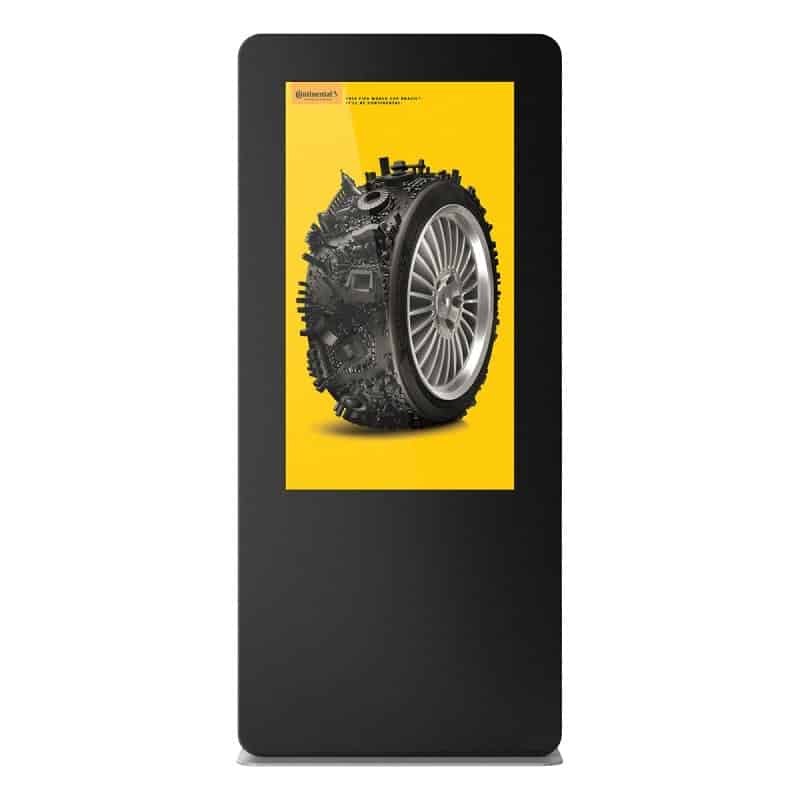 Highly configurable. Built to order hardware.

To ensure that our products meet your exact requirements, we offer highly-customisable solutions. Teksmart® offers outdoor freestanding digital screens that are not only built-to-order but also delivered in days. First pick your perfect size, and then configure your display based on the following options:
Choose from the following integrated media player options:
Entry-Level Android OS Media Player
Enterprise-Level Windows OS (i3 PC) Media Player
Premium-Level Windows OS (i5 PC) Media Player
… Or even opt for no media player (if you plan to connect to an external source). The choice is entirely yours, and the most suitable option for your application will depend on exactly how you plan to use the digital sign and what content you wish to display.
You can decide whether you want your display to have an integrated touch-screen or not. Your decision should be based on whether you plan to use your digital sign to present dynamic information or go that step further and interact with the user.
Extensive
range of screen sizes.
We know that one size doesn't fit all, so from a small shopping centre through to a huge train station – we've got an outdoor freestanding display suitable for your digital signage application. Choose from:
Built to weather the storm. 

All-round protection.
Designed to be sleek and elegant in appearance while offering the highest levels of reliability, our outdoor freestanding digital displays use an industrial-grade casing that is durable, rust proof and hard wearing. The toughened, tempered and scratch proof glass front is strong and secure. All internal components are silicone sealed to endure changes in weather conditions.
On the rear panel you'll find a lock protected water tight compartment that keeps the controls, ports and connectors safe. The freestanding version comes with a safe and stable heavy-duty base, in the same colour finish as the main body, and let's not forget – premium quality speakers come integrated as standard.
Design

without compromise.
The toughened tempered glass face, rounded corners, slim line profile and sleek surround all add to eye-catching tablet-like aesthetics. But don't let these good looks deceive you – these outdoor freestanding digital posters are vandal proof, waterproof, built for 24/7 commercial use and designed for demanding outdoor applications.
High-brightness display.

Whatever the weather.
The 2000-nit high brightness outdoor freestanding digital screen is up to four times as bright as your typical indoor digital signage display and therefore even suitable for areas that are positioned in direct sunlight. We only use high-quality LG panels that provide astonishing Full HD (1920×1080) picture quality and a wide viewing angle.
Features
Highly configurable 'built to order' hardware
Built for 24/7 commercial use and designed for public spaces
IP65 waterproof rating to withstand harshest of weather conditions
Ruggedised 'anti-vandal' casing for demanding outdoor application
High brightness screen for exceptional picture quality in direct sunlight
High definition screen with a wide viewing angle
Integrated premium quality speakers
Ports are kept secure within a lock protected compartment
Technical Specifications
Display
Screen Type: LCD
Resolution: 1920 x 1080 Pixels
Brightness: 2000 cd/m2
Aspect Ratio: 16:9
Viewing Angle (H/V): 178/178
Response Time: 6ms
Lifetime: 60,000 Hours
Design
Colour/s: Black and Silver
Material/s: Glass Face & Steel Case
Other
Installation: Freestanding
Cooling: Air Conditioning System
Mains Power: AC 100 ~ 240V, 50/60 Hz
Speakers: 2 x 10W Internal Speakers
Certifications & Standards: CE, RoHS, IP65
Working Temperature: -10°C ~ +50°C
Working Humidity: 10% – 90%
Package Contents
1 x Freestanding Display
1 x AC Power Lead
1 x Wi-Fi Antenna
1 x Key for Rear Access Door
Integrated Media Player Options
1. No Media Player (HDMI Input Only)
2. Entry-Level Android OS Media Player
Operating System: Android® 5.1
Processor: Rockchip® Octa-Core 1.8GHz
Memory: 1GB DDR3 Ram
Storage: 8GB Flash
Network: Wi-Fi, RJ45 LAN
Ports: USB, RJ45, HDMI
3. Enterprise-Level Windows OS (i3 PC) Media Player
Operating System: Windows® 10
Processor: Intel® i3 3240 Dual-Core 3.4GHz
Memory: 4GB DDR3 Ram
Storage: 240GB SSD Hard Drive
Network: Wi-Fi, RJ45 LAN
Ports: USB, RJ45, HDMI
4. Premium-Level Windows OS (i5 PC) Media Player
Operating System: Windows® 10
Processor: Intel® i5 3470 Quad-Core 3.2GHz
Memory: 8GB DDR3 Ram
Storage: 240GB SSD Hard Drive
Network: Wi-Fi, RJ45 LAN
Ports: USB, RJ45, HDMI
Integrated Touchscreen Option
Detection Method: Projected Capacitive 10-Point Touch
Touch Method: Finger, Stylus or Opaque Object
Interpolation: 32767 x 32767
Response Time: ≤20ms
Accuracy: ±2mm
Interface: USB
Supported OS: Windows, MAC, Linux, Android
Delivery & Warranty
2 Year Manufacturer's Warranty
Extended Warranty Available
UK Next Day Delivery
Worldwide Shipping Available